Monthly Market Updates – April 2023 ​​​​​​: Bear Market Rally or New Bull Market?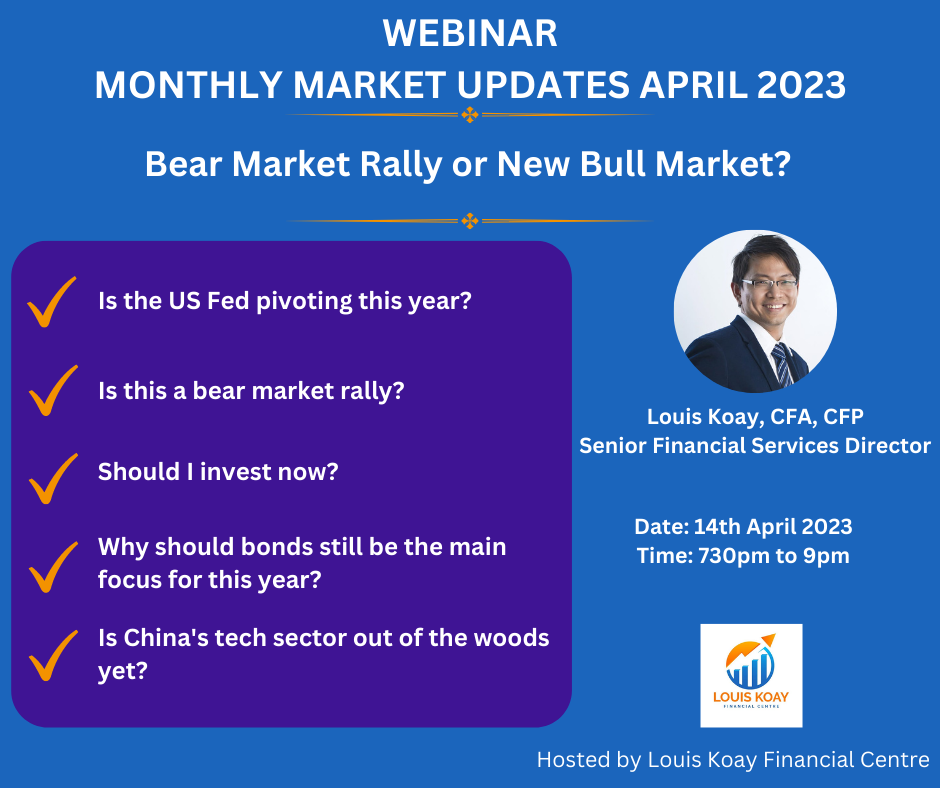 [𝗕𝗲𝗮𝗿 𝗠𝗮𝗿𝗸𝗲𝘁 𝗥𝗮𝗹𝗹𝘆 𝗼𝗿 𝗡𝗲𝘄 𝗕𝘂𝗹𝗹 𝗠𝗮𝗿𝗸𝗲𝘁?]
As the world navigates through the aftermath of bank crises in Europe and the US, the markets seem to be defying all odds and recovering steadily. The US tech index has shown impressive growth of over 20% this year, leaving investors curious as to whether this is merely a bear market rally or the dawn of a new bull market.
With such positive trends, many are wondering why there has been no market crash yet. Could it be that the global financial system is more resilient than anticipated? Or are we simply experiencing a temporary market uptick that will eventually fizzle out?
Another question on investors' minds is whether the US Fed will pivot this year and reduce interest rates. This could have a significant impact on the market, and all eyes are on the Fed to see how they will respond to current economic conditions.
Stay up-to-date with the latest market updates by joining this upcoming market updates webinar:
Key sharing:
Is US Fed pivoting this year?

Is this a bear market rally?

Should I invest now?

Why bond should still be the main focus for this year?

Is China tech out of the woods yet?
Attend this upcoming webinar to hear from my view on the current market
Date: 14th April 2023
Time: 730pm to 9pm
Subscribe and don't miss next events.
Holistic Financial Planning is Essential